Spring is in the air; winter is melting away, and it's time to prepare for warm temperatures, sunshine and lots of outdoor activities. Across the country, Americans are using this time to clean their houses, service their cars, and take care of all of the yard work and other chores that they put off all winter. Spring is a time of transition not only for the weather but for us as well as we move to a much more active lifestyle.
When you put together your list of spring cleaning projects to take on, mowing the lawn, mopping the floors, trimming the hedges, sorting through clothes and getting a car wash are just a few of the many tasks that first come to mind, but we here at Fredonia Chrysler Dodge Jeep Ram, your local new Chrysler dealer in Fredonia, New York have one task that is often overlooked that could potentially save you hundreds and possibly thousands of dollars down the line.
A Money Saving Opportunity
According to ThisOldHouse.com, only 30 percent of garage owners use their garages for storing their vehicle. Often we use garages as a miscellaneous storage center where we keep things like bikes, landscaping tools, lawn mowers, paint, gasoline, golf clubs, tents and items of the like. These are items you wouldn't want to keep in your house, so the alternative becomes garage storage.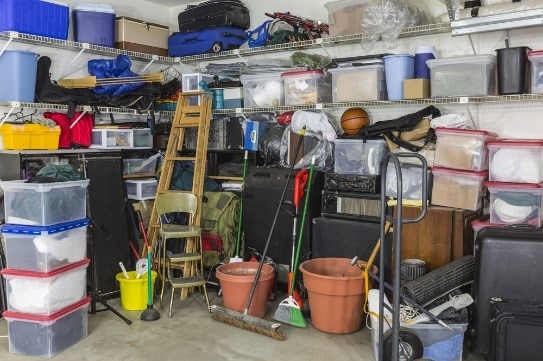 Although these items might be better suited for a garage-like atmosphere, they can quickly clutter your space and disallow you to store your vehicle in your garage. The problem is that when your vehicle sits in the driveway or on the street, it is fully exposed to natural elements that can be extremely harmful to paint and metal. Consistent cleanings may help prevent any noticeable tarnishing, but weekly car washes can be expensive and laborious.
When you store your vehicle in a garage, you shield it from harmful forces such as extreme heat, UV light, bird droppings, bugs, rain, hail and much more. Your vehicle endures a lot over the course of a year, so imagine the difference it would make if it were protected every time you weren't using it. Your paint would last longer, your vehicle would stay clean, and you would avoid dents, scratches, and nicks. The bottom line is that your car would hold its value for a much longer duration if stored in a garage.
With that said, lets dive into some garage cleaning tips to put to use as part of your yearly spring cleaning project, and start saving you money!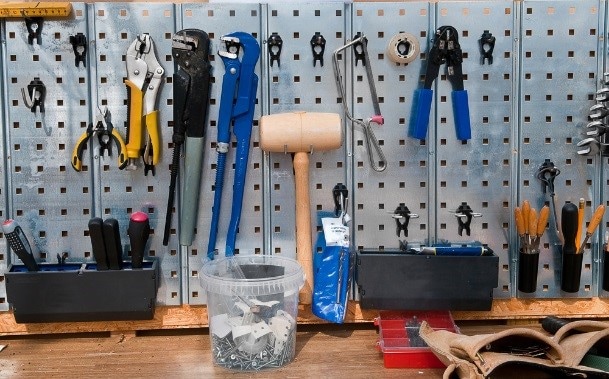 Cleaning the Garage
The first step when cleaning your garage is always to completely empty it out. Take out all objects no matter how big or small and set them outside, separating them by size and throwing away everything that you don't need. Space is limited, so we will only want to keep what is absolutely necessary. With the garage still completely empty, perform a thorough cleaning.
Start by wiping down all shelves and surfaces with a duster, brush or rag, pushing all dirt and debris to the garage floor. Then give your floor a good sweeping with a broom, collecting all dirt into a dustpan, although this process may be expedited with the help of a leaf blower. Once all large debris is removed, use a power washer or powerful hose to give your garage floor a powerful, deep cleaning.
Now that your garage is sparkling clean, it is time to come up with effective organization methods. If you don't have a pegboard installed in your garage already, they are great for hanging smaller tools like drills, hammers, wrenches and things of the like. You could essentially cover all of your walls with them and use them for hanging things like bikes, golf clubs, power tools and other larger objects.
For all of your non-hangable items, many types of peg boards easily and effectively support small shelves for storing things like oil bottles, car cleaning supplies, and much more. But what about the small things like screws, nuts, bolts and nails that don't go on shelves or hang on peg boards? If you don't have a workbench in your garage, these small items could be troublesome. Separating them into containers and putting them on shelves is one way to store these, but we have a more effective method in mind.
Try installing wooden boards with magnetic strips into your pegboards. This way you can quickly access the tools you need, keeping them always in reach and neatly stored. After all of your objects are reorganized in the garage, it is just a matter of how much space is left. Hopefully after throwing away the useless objects and neatly organizing your objects, you will have enough space to park your car, saving you money and tidying up your living space!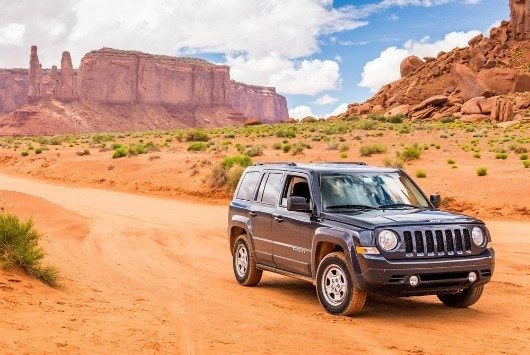 Find a Car Worth Protecting at Fredonia Chrysler Dodge Jeep Ram Today
If you love masterfully crafted American-made vehicles, stop into Fredonia Chrysler Dodge Jeep Ram, your favorite used Jeep dealer near Buffalo, New York. We have a vast selection of high-quality new and used vehicles for sale and an expert sales staff that will attend to your every need. Stop by our showroom located at 258 West Main Street, Fredonia, New York 14063 to test drive your favorite Jeep today!
Sources:
http://www.thisoldhouse.com/toh/photos/0,,20669109_21273223,00.html